Vector Renewables, Owner's Engineer of 8 solar PV projects in Spain promoted by BNZ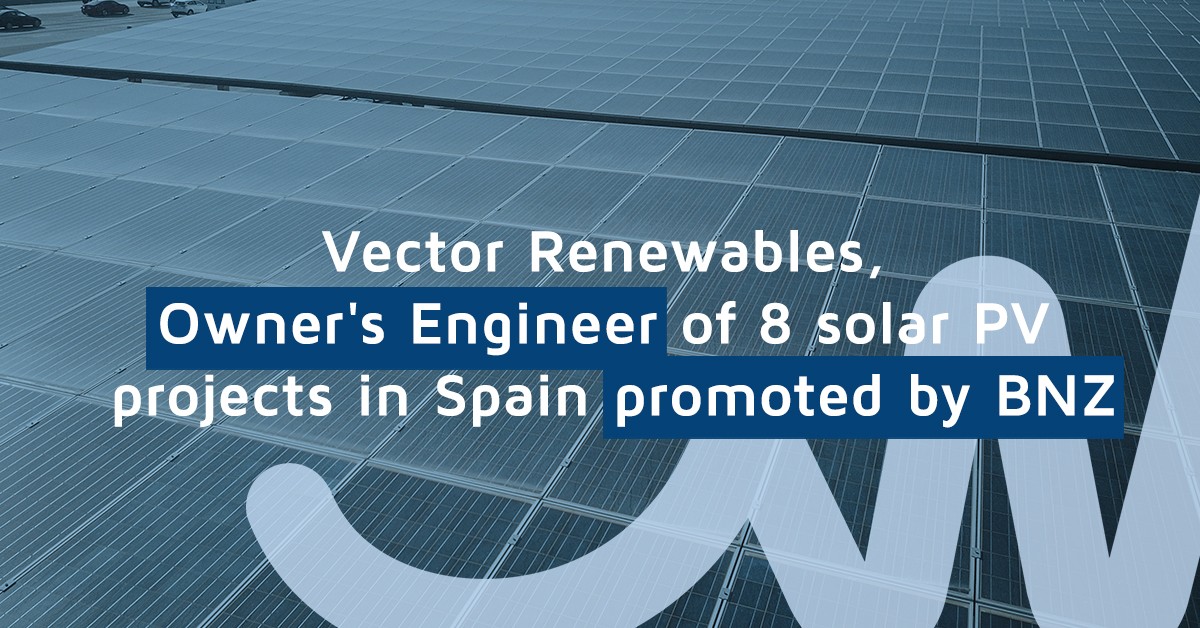 The green energy professional service provider, Vector Renewables, will advise the independent power producer (IPP) BNZ, during the construction of 8 Solar PV projects in Spain, totalling 473 MWp, one of the largest portfolios existing in the Spanish market.
With a strong international experience as technical advisor, Vector Renewables has been selected by BNZ as owner's engineer, to supervise the construction of the solar projects that the company plans to build starting from 2022. It is a 473 MWp solar PV portfolio, composed of 8 projects in an advanced stage of development in Andalucía, Comunidad Valenciana, Extremadura, and Murcia.
During the construction, Vector Renewables will act as the Owner's Engineer, carrying out the engineering design review and the site supervision of the projects. In this regard, the company will also lead the project and site management services and will also coordinate activities related to Health and Safety and Environment Management.
This service adds a new relevant milestone to the huge experience of Vector Renewables in providing Owner's Engineering services through its Technical Advisory business line. To date, the firm has provided support during the construction of renewable plants of over 5 GW worldwide.
Jordi Francesch, Board Member of BNZ and Head of Asset Management & Chief Risk Officer of Glennmont Partners, has declared: "We are pleased to announce that we will work with a local partner like Vector Renewables as the Owner Engineer of the projects. This announcement represents an important milestone for BNZ, since the Spanish market has great potential in the development of renewable energies, especially solar PV, and because this portfolio will be one of the most important managed by our company in the country. The development of these clean energy projects will contribute to promoting the energy transition in Spain and to move towards a low emissions economy".
Fabrizio Moscone, Chairman of Vector Renewables has declared: "We are all thrilled and honoured for this new opportunity to continue partnering with Glennmont and having now the privilege of supporting BNZ. For years Glennmont Partners entrusted Vector to serve their growth ambition and today's announcement is one more step on the path to providing our Clients with global reaching technical skills and hardworking attitude. We look forward to continuing in our endeavour, as a team with BNZ, to enable green energy growth and participate actively in the global decarbonization process"
---
BNZ is an independent power producer (IPP) that develops, builds and operates solar photovoltaic projects, and has a pipeline of more than 1 GW of European solar investments under development between Italy, Portugal and Spain.
Vector Renewables has provided services in more than 40 countries: over 4 GW are currently under management, 100 GW have been served as Technical Advisor and 5 GW as Legal & Financial Advisor. To date Vector Renewables has participated in more than 3,000 projects, which have allowed to position itself as one of the most relevant independent advisors in the renewable energy sector worldwide.
Stay Informed
When you subscribe to the blog, we will send you an e-mail when there are new updates on the site so you wouldn't miss them.