Vector Renewables to attend the leading renewable energy events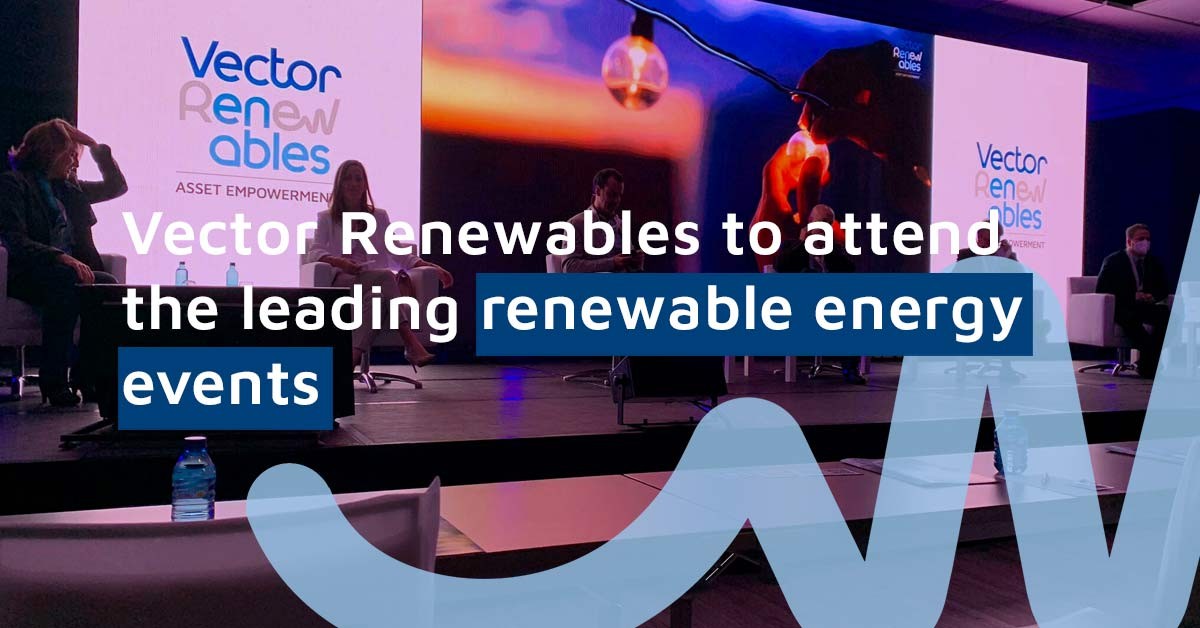 After the pandemic-forced hiatus from in-person gatherings, Vector Renewables is delighted that our calendar for 2022 is packed with strategic international events to drive the growth of renewables.
We will attend the leading events over the coming months to listen, learn and share with renewable energy experts from around the world.
Our schedule of renewable energy events in the first half of 2022
• Energyear Conosur. Santiago de Chile. 25-26 May. Available in on-site and virtual format, we are a bronze sponsor of this event. Our colleague Humberto Bustamante, Country Manager for Mexico, will participate on the first day as moderator in the round table discussion on "New technologies and innovations for reducing the LCOE".
• Congreso Nacional de Autoconsumo 2022. Seville. 26-27 May. This event, organised by the APPA Renovables association, will be a new opportunity to learn about the latest technological developments in self-consumption and meet with the main players in this field. If you are also going to be there and would like to meet with someone from Vector Renewables, do not hesitate to contact our colleague Cristian Álvarez (Regulatory Affairs).
• Feria GENERA. Feria Internacional de Energía y Medioambiente. Madrid. 14-16 June. A must-attend event for the renewable energy sector in Spain, particularly this year since Genera is celebrating its 25th anniversary. Don't miss the Innovation Gallery 2022, which will feature a display of the main lines of research currently underway in renewables and energy efficiency.
• Energyear Portugal. Lisbon. 30 June. The event—which we also sponsor—designed to take the pulse of the Portuguese renewable energy market will be moderated by our colleague Joao Martinho (Construction Manager).
• Wind Asset Management Europe 2022. Madrid. 6-7 July. Two days with a packed programme to listen to the leading voices in the wind asset management value chain. Our colleague Marco Guarneroli (Country Manager Italy) will participate as a speaker in the "Mitigate the Risks and Maximise the Profitability of Wind Asset" panel.
• AEE Encuentro Eólico Anual. Madrid. 7 July. This year we also can't miss the event organised by the Spanish Wind Energy Association, which Vector Renewables has been a member of for several years. Definitely one of the key events for following all the latest in the wind energy sector in Spain.
• Solarplaza Summit Spain. Madrid. 7 July. Spain's leadership in solar energy in Europe will serve as the main theme of the event to explore challenges, advances and obstacles in the growth of solar technology.  
• Energyear Colombia. Medellín. 12-13 July. The Vector Renewables team will be a bronze sponsor at this new edition of the event, where floating solar will be discussed alongside the challenges of green hydrogen and battery storage, among others.
• Solar Plaza Summit Italy. Rome. 14 July. If you attend this event, you'll be able to meet some of our colleagues from Vector Renewables Italy. You won't want to miss this date marked on the calendar to talk about the current and future scenario of solar energy in Italy.
And this is just the beginning. The second half of 2022 has more events in store for us. We will keep you posted as the dates get closer. If you have any comments or would like to write to us, please don't hesitate to contact us at This email address is being protected from spambots. You need JavaScript enabled to view it.. 
Stay Informed
When you subscribe to the blog, we will send you an e-mail when there are new updates on the site so you wouldn't miss them.