Offshore wind and its potential in the UK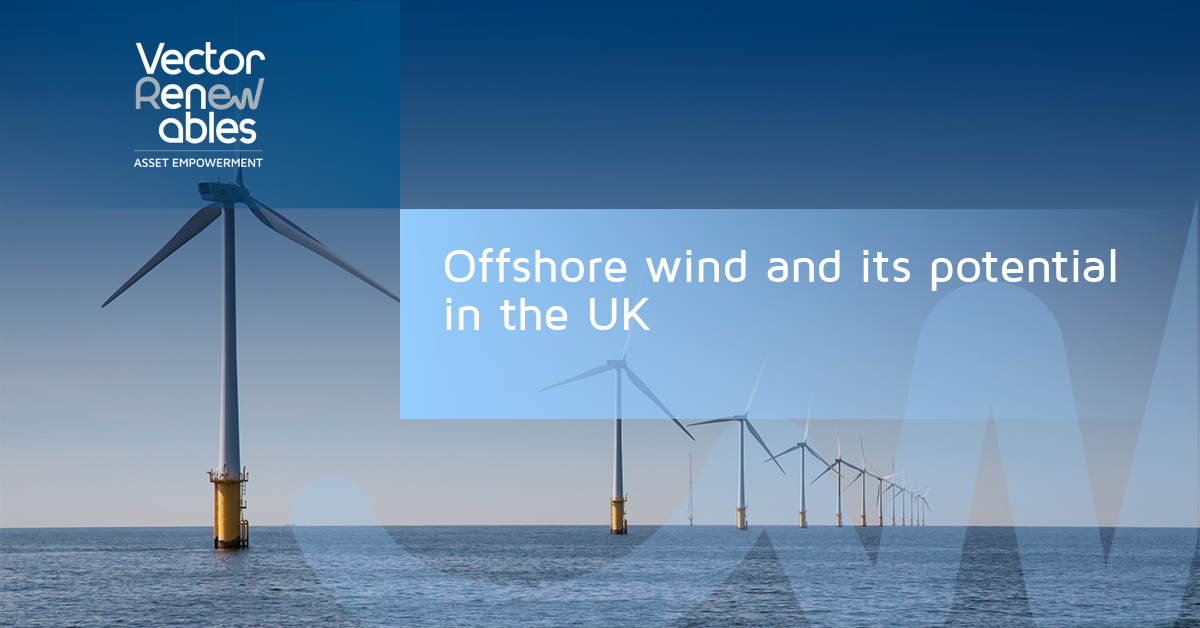 The offshore wind energy sector had its best year ever in 2021, with 21.1 GW of new capacity connected to the grid, according to the latest Global Offshore Wind Energy Report published by the Global Wind Energy Council (GWEC). By country, the UK leads the ranking with the highest number of offshore wind installations worldwide (28.9%), followed by China (28.3%) in second place.
The UK is in an enviable location with a significant and consistent wind resource, allowing it to take advantage of the opportunities of available offshore energy. As such, the UK Government has harnessed the success of this technology as a key driver in achieving its net zero emissions targets, which will power every home in the country. Even so, the target for 2030 is not an easy one and it envisages having an installed capacity of 50 GW in offshore wind, of which 5 GW correspond to floating offshore wind energy projects.
Benefits and particularities of offshore wind installations
As stated by GWEC on its website, offshore wind offers numerous benefits. Based on developments in Europe and China over the past decade, offshore wind has achieved incredible cost reductions, with a levelized cost of electricity (LCOE) that makes it competitive with fossil fuels in markets around the world.

Moreover, experts predict that the cost of offshore wind will continue to fall in the coming decades. It should be noted that this technology avoids millions of tons of CO2 during the lifetime of the installation. Considering that an offshore wind farm can last approximately 20 to 25 years, with highly efficient and high-tech generators, the production of 40 million tons of CO2 on the planet could be saved.


The location of fixed offshore wind installations is very relevant. These wind farms are usually located in shallow waters and far from the coast, shipping lanes, strategic naval installations and areas of ecological interest. For their operation, they require fewer turbines compared to onshore farms due to higher wind speed and consistency of directions. The location, climatic conditions and geology of the British coastline make the UK one of the best places in Europe for the development of this technology. In fact, a total of 43 GW of projects are currently under development, construction, and operation.


There are two types of offshore wind farms, fixed-bottom or floating. The latter can be installed further offshore to benefit from much stronger and more constant winds, thus generating more energy. Floating offshore wind (FLOW) does not contribute much (yet) as an energy resource globally but, due to its great potential, it promises to deliver clean energy on a large scale in the future. The recent Crown Estate Scotland (CES) Scotwind leasing round allocated 25GW of offshore wind, of which 15 GW was for FLOW projects.
Wind flow in the ocean is usually more reliable and consistent compared to onshore, with more abundance, strength and a constant direction. There are no barriers or obstacles around an offshore wind farm to interfere with speed or trajectory, so an offshore installation typically has more reliable and abundant power generation compared to its onshore neighbor. In addition, offshore floats have a much lower visual and acoustic impact. These generators do not modify the terrestrial landscape or cause noise pollution in the environment, and an optimal distance from the coastline can make the offshore wind farm virtually unnoticeable.
Offshore wind guarantees the generation of renewable energy in markets with high population density or with a very limited surface area. There are markets in which the installation of onshore wind energy is not viable due to their small geographical area. In the case of the United Kingdom in particular, being an island with an area half the size of some of its neighboring countries, offshore wind becomes a great resource for power generation.
On the other hand, GWEC Market Intelligence believes that 260 GW of new offshore wind capacity could be added in 2022-2030, bringing the total number of offshore wind installations worldwide to 316 GW by the end of the decade.
Over the past 15 years, the Vector Renewables team has accumulated more than 30 GW of technical wind services, demonstrating our extensive experience in providing consulting services for these types of projects. Need advice for your renewable energy projects? Let us write to us!
Stay Informed
When you subscribe to the blog, we will send you an e-mail when there are new updates on the site so you wouldn't miss them.