Jorge Zazo, Country Manager Japan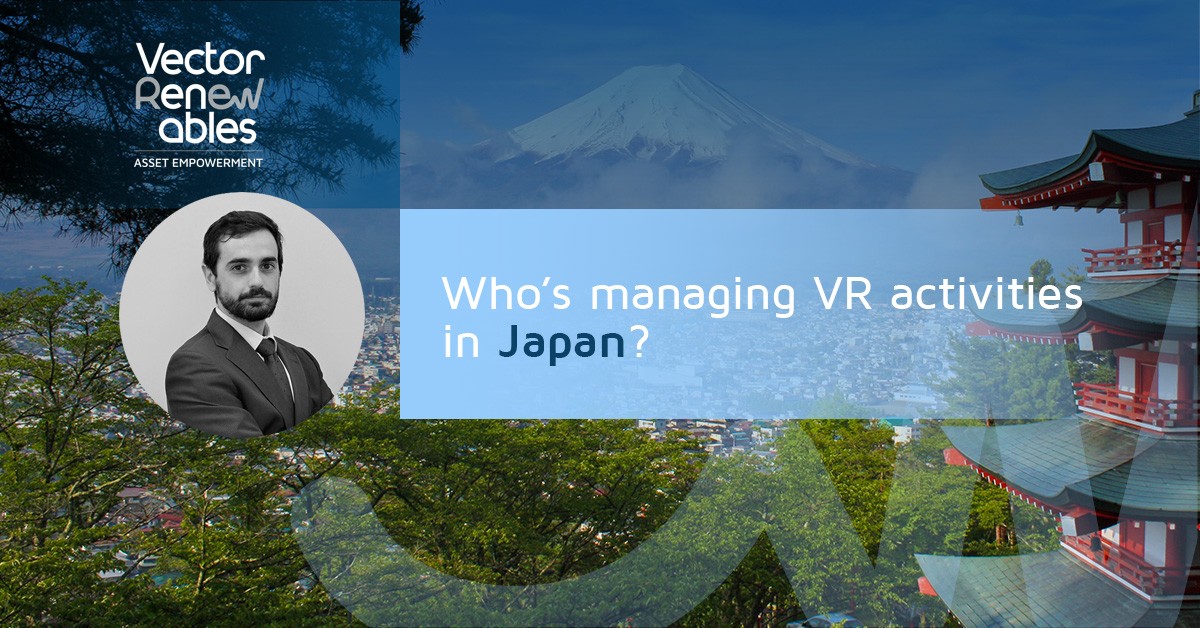 Vector Renewables' Japan office was opened in 2013 and currently has a multi-disciplinary team of more than 35 people. It is certainly our most international office, with colleagues from 10 different nationalities. Everyone speaks Japanese and English, and it's easy to hear people talking in Spanish, French, Chinese, Arab, Tagalog, Malay, Portuguese, Korean and sometimes some mixes!
At the helm of VR's activities in Asia is Jorge Zazo, which is supported by a management team in Japan composed of Seiya Sugita (Business Development), Shintaro Ishikawa (Technical Asset Management), Aki Iriyama (Commercial Asset Management), Kevin Ngo (Technical Advisory) Rie Doi (Office Manager) and the rest of the team.
Jorge joined Vector Renewables in 2018, working as Business Developer for the company in Japan and Southern East Asia and then as Manager of Commercial Asset Management for clients in the region.
He has a bachelor's degree in Economics and prior to join VR, worked in Financial Audit and Banking Financial Consulting for EY, involved in projects both in large banks and investment vehicles. During this period, he participated in several transactions and comprehensive audits from the regulator. To complement his financial experience with management skills, he took an International MBA in Business Administration and subsequently worked at the Economic and Commercial Office of the Spanish Embassy in Tokyo, where he encountered the main players in the Japanese renewable energy market.
As Jorge pointed out, "the Japanese market is right now experiencing changes we have already seen in other markets such as the Italian or Spanish, moving from FiT schemes to Corporate PPAs, promoting offshore wind development, considering agri-solar and energy storage systems, and even laying the cornerstone for Hydrogen projects. Is the moment for the industry leaders to stand out and push the development of the industry in Japan".
In fact, Japan has installed renewable capacity of more than 80GW by the end of 2021. Therefore, according to the Clean Energy Strategy report made by the Japanese government, the country is aiming to increase renewable power generation target from 22% - 24% to 36%-38% by 2030 and will make renewables primary generation resource.
Among regulations and a very competitive landscape by 2050 Japan will try to achieve carbon neutrality. The government policy target is to ensure energy supply at the lowest possible costs, making sure than 281 cities and local governments declared net zero emissions in which they cover more than 101 million of people, about 80% of Japan's population. The market structure provides a forecast numbers of capacity, generation, and consumption to be positive as the country is willing to adapt their policies to accomplish their energy goals.
If you want to know more about Jorge, do not hesitate to contact him through his Linkedin page.
Stay Informed
When you subscribe to the blog, we will send you an e-mail when there are new updates on the site so you wouldn't miss them.