Why is Portugal a key market for offshore wind?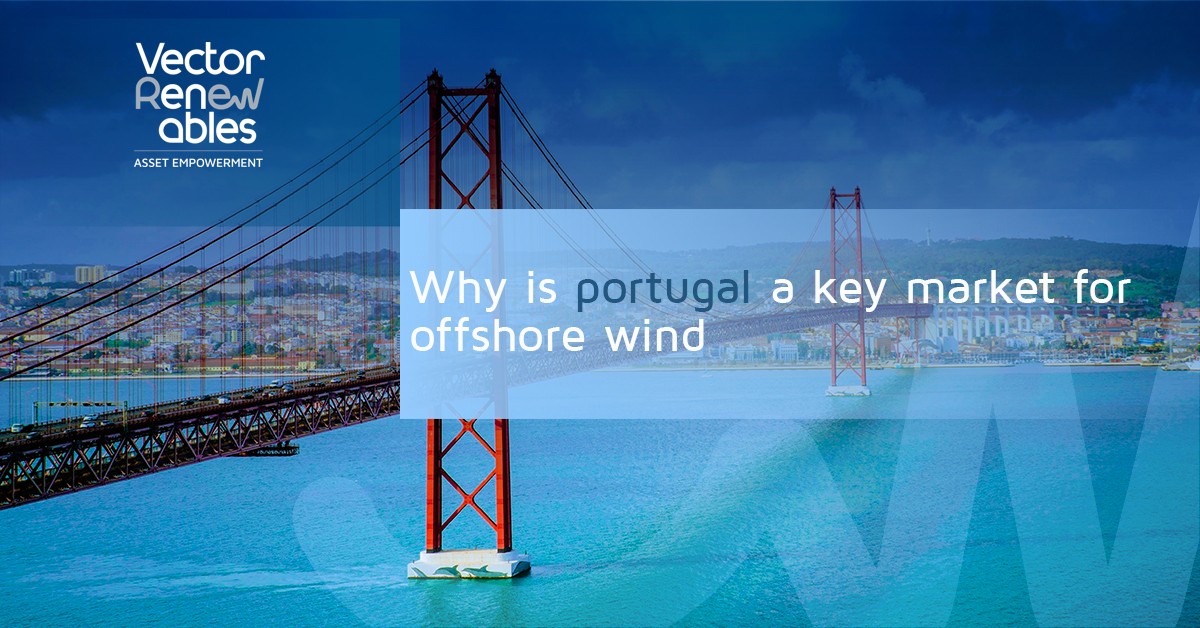 The portuguese energy market has gained significant attention these days due to its commitment to the energy transition, this includes major developments in green hydrogen and especially in offshore wind. Located on the western coast of the Iberian Peninsula, Portugal boasts a unique geographical advantage for harnessing the power of wind from the Atlantic Ocean.
The country also has set ambitious energy transition targets and aims for 80% of the country's generation to be renewable by 2026 and to achieve carbon neutrality by 2050.
In this scenario, offshore wind energy technology plays a key role. With a coastline that embraces more than 1,200 kilometers, with favorable wind conditions, it makes it an ideal location for offshore wind farms. In particular, the country has several coastal and mountainous regions that are particularly windy: The northern coast, the Serra da Estrela region, and the Algarve with the strongest and most constant winds.
Producing energy from an offshore wind farm provides major advantages and opportunities that are extremely attractive for both domestic and international investors and owners. With low visual and acoustic impact, they can generate twice as much energy as an onshore wind farm and also saving millions of tons of CO2 over the lifetime of the facility.
One of the significant offshore wind projects in Portugal is the WindFloat Atlantic, the first wind offshore park in continental Europe, is located right in front of the cost of Viana do Castelo and it has been operating since 2020 by the end of 2022 the project had recorded a total cumulative production of 131 GWh, reaching the target figures.
Currently, the Portuguese government has been proactive in supporting different big projects in this matter as the sector has brought considerable economic benefits to the country. By the generation of these projects' jobs, investments are helping the economy by fostering local supply chains embracing the overall social–economic development of the region.
In early 2023, the Portuguese government announced a public hearing to propose five areas along the Atlantic coast where wind farms could be built. Portugal's first auction of licences to build offshore wind farms is expected to take place by the end of the year, encompassing the sale of space and power on various sites. These include a plot situated in front of Viana do Castelo, where the Windfloat Atlantic wind farm is already operational, two additional plots in Figueira da Foz, and another lot in Sines. As announced by Ana Fontoura, Portugal's Energy Secretary, this auction will be for projects with a total installed capacity of more than 1 gigawatt (GW).
The Portuguese government intends to conduct a public consultation in September, with the goal of finalizing the maritime areas to be auctioned by October. This would mark the commencement of the initial phase of the bidding process. By the end of 2030, the renewable energy contribution is expected to be 47% of the national final consumption of energy. In order to complete their energy goals, the country has also established some objectives such as reducing import dependency to 65%, cities such as Leixões and Ericeira-Cascais could also increase self-energy sufficiency by develop ping offshore wind projects.
Overall Portugal is a strategic player with an energy sector that is rapidly expanding driven by the country's commitment to renewable energy, favorable policies, and innovative offshore wind projects.
In order to be closer to its customers and provide them with deeper local support, Vector Renewables opened its headquarters in Portugal in 2022. To date and led by Joao Martinho as Country Manager, Vector Renewables Portugal has a track record of more than 2.5 GW in Technical Advisory services for different projects in the country and manages several solar PV plants. If you would like any advice for projects in this market, please do not hesitate to contact us.
Stay Informed
When you subscribe to the blog, we will send you an e-mail when there are new updates on the site so you wouldn't miss them.