Vector Renewables, legal advisor for a solar PV portfolio in Murcia owned by Sancus Capital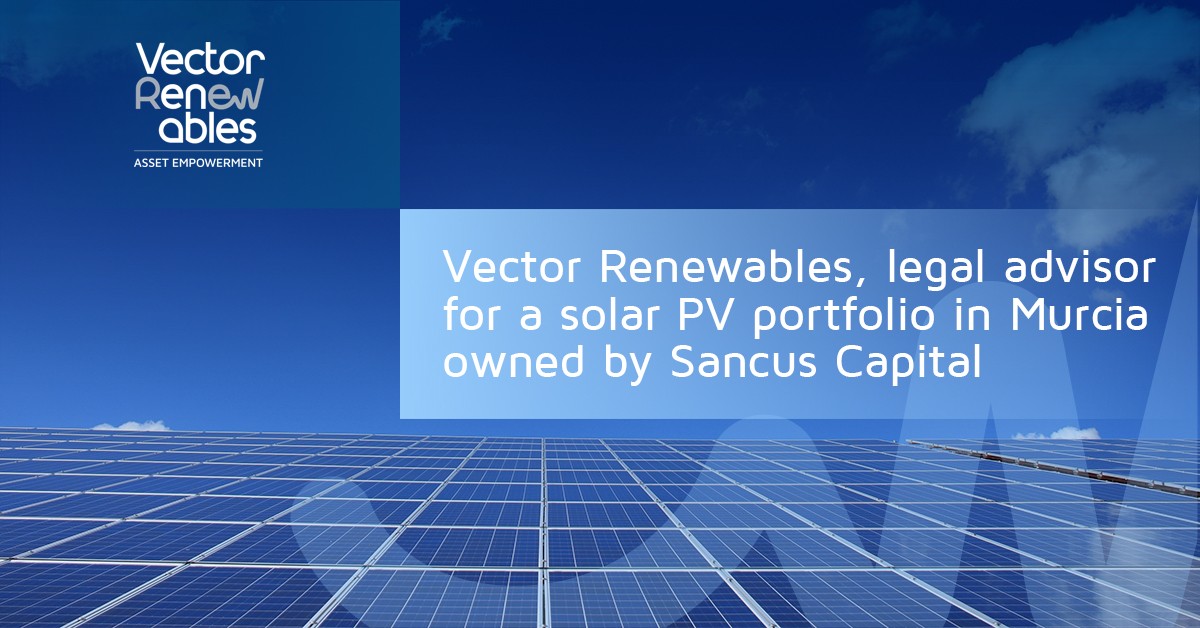 Vector Renewables, the leading independent advisor in the renewable sector, has participated through its Legal Advisory business line, in the drafting and negotiation of EPC and O&M contracts for the new portfolio acquired by Sancus Capital in the province of Murcia, Spain.
Rafael Echegoyen, as Director of Legal Advisory, and Beatriz González, as Senior Legal Counsel, have led the project supporting Sancus Capital throughout the whole process. Thus, both highlight the "importance of legal advice in this type of projects in the context of such a volatile scenario as the one we are currently experiencing, directly affecting delays in the supply chain and the lack thereof, added to the possible delay in obtaining the required permits, licenses and authorization from the public authorizations to reach the Ready to Build status".
Vector Renewables would like to thank Sancus Capital for the trust placed in us during the provision of this service, and we look forward to continuing to provide legal support for any other legal matters that may arise in the near future.
About Sancus Capital
Sancus Capital is an independent Spanish management firm specialized in managing renewable energy, real estate and venture capital sector worth more than 2.5 billion euros. The firm has extensive global experience in investment, financing and operating renewable energy projects.
About Vector Renewables
Vector Renewables has provided services in more than 40 countries. It has a portfolio under management of over 5 GW and has performed over 100 GW of services as Technical Advisor and 5 GW as Legal and Financial Advisor. The company has been involved in more than 3,000 projects, which has positioned itself as one of the most relevant independent advisors in the renewable energy sector worldwide.
Vector Renewables through its Legal Advisory business line provides services regarding technical agreements (such as, EPC, O&M, PPA, Supply agreements etc), restructuring process, legal advice services on buy and sell side, legal due diligence, regulatory affairs, etc.
Don't hesitate to contact directly Rafael Echegoyen and Beatriz González to depth in all services that Vector Renewables' Legal Advisory team may offer to your company.
Stay Informed
When you subscribe to the blog, we will send you an e-mail when there are new updates on the site so you wouldn't miss them.