Leadership in teams. What qualities a good manager should have?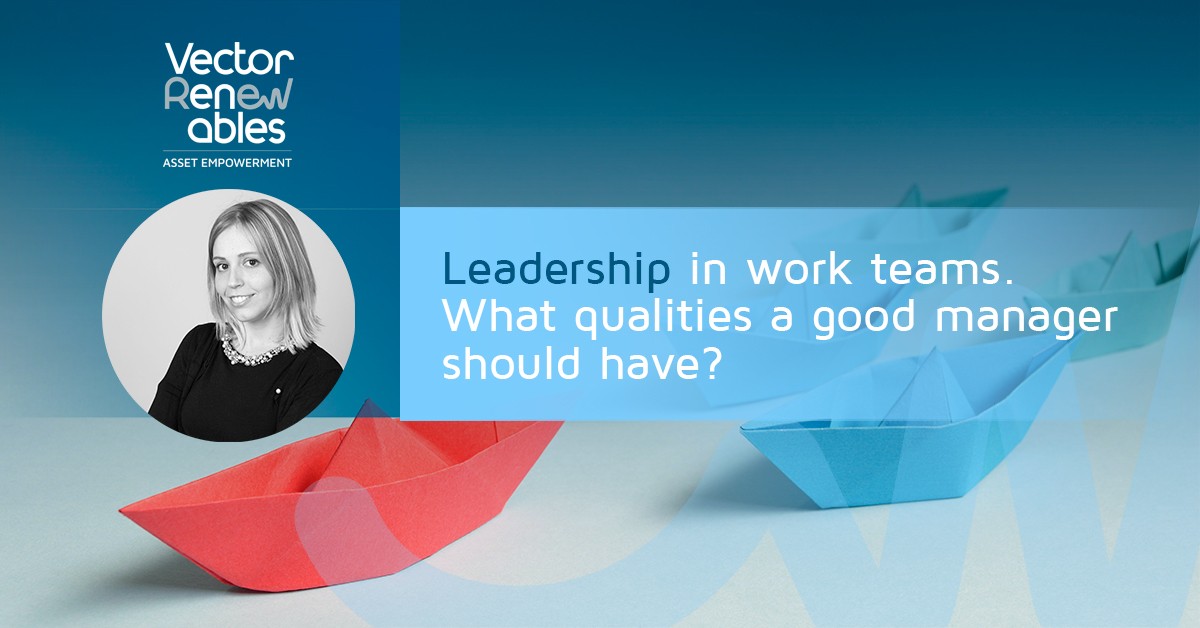 Effective leadership is crucial in any job, as employees often leave large companies due to bad managers. According to a GoodHire study, 82% of professionals surveyed would potentially quit their job because of a bad boss.
At Vector Renewables, we recognize the importance of having excellent leaders to guide our teams. To address this issue, we would like to discuss it with our colleague Deborah da Prada, Global HR Business Partner.
Leadership is important because it provides direction, motivation, conflict resolution, effective communication, and skills development. An effective leader maximizes team performance and achieves exceptional results. However, being a leader is not always synonymous with being a manager, although many leaders are also managers.
Numerous studies have explored different leadership styles, such as autocratic, democratic, and transformational, to understand their impact on motivation, job satisfaction, productivity, and team performance. This research has provided valuable insights into how leaders influence these key aspects and helps identify the strengths, weaknesses, and impacts of each style on team results.
So, how does a leader differ from a manager?
According to Peter Drucker, the father of modern management, a manager must above all be a leader.
However, professionals often wonder about the qualities that differentiate a manager from a leader. In our view, managers EXPLAIN, while leaders INSPIRE. Managers DISCIPLINE, while leaders MENTOR. Managers position themselves above the team, whereas leaders work with the team.
As Deborah da Prada emphasizes, "at Vector Renewables, we believe that being a leader requires a combination of qualities, skills, and values. A good team leader possesses effective communication skills, strong ethics, empathy, technical knowledge, and the ability to inspire others. Leaders contribute to creating a sustainable working environment, foster healthy relationships with team members, and keep people engaged and motivated."
It is crucial to promote diverse leadership styles that encourage individuals to unleash their full potential. "In our teams, we embrace differences and originality. Every day, we strive to lay the foundation for tomorrow's leaders by learning from our experiences, mistakes, and lessons," says Deborah.
"At Vector, we see ourselves as leaders, both individually and collectively. We readily assist colleagues facing challenges and seek guidance from those with more experience. Simultaneously, we are pioneers who embrace new endeavors, even when we lack expertise. Our multidisciplinary team encompasses various areas such as Engineering, Legal, Finance, and Marketing. It is common to see departments offering masterclasses to share knowledge with colleagues."
Transitioning from a managers to a true leader may require effort, but the rewards are significant. Being a considerate leader boosts productivity, motivation, and team loyalty, leading to overall business success.
If you would like to learn more about how we nurture and foster a leadership culture within our company, feel free to contact Deborah da Prada through her LinkedIn profile.
Stay Informed
When you subscribe to the blog, we will send you an e-mail when there are new updates on the site so you wouldn't miss them.