Agrivoltaics, the advantages of combining renewables and agriculture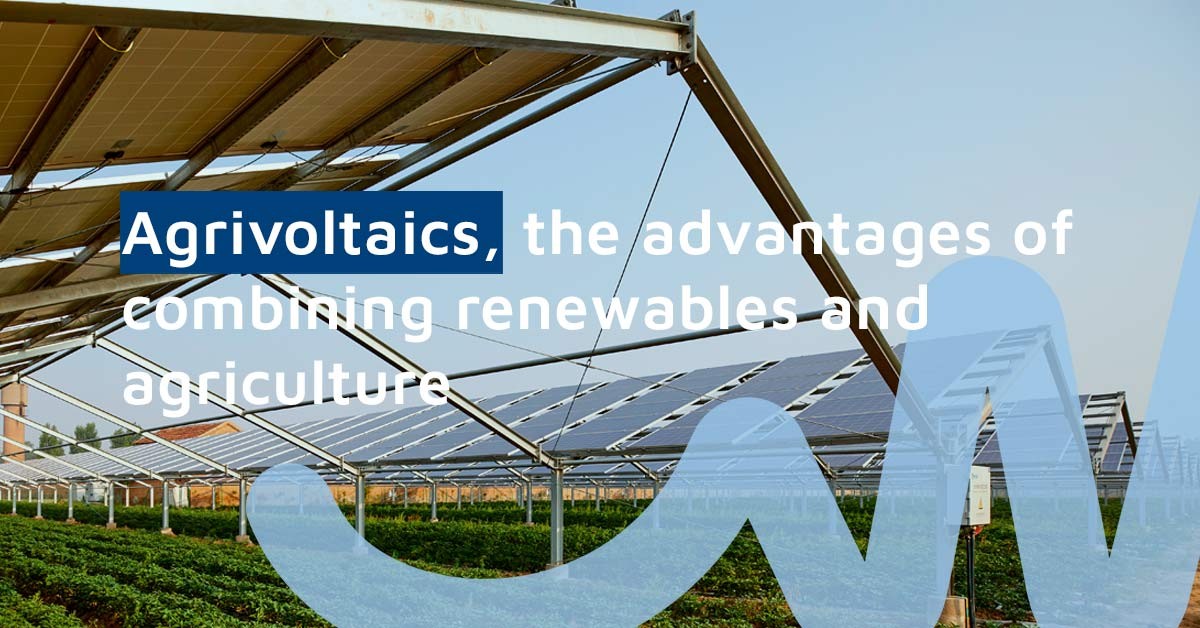 While the concept first appeared in 1981, it has taken several decades to coin the word 'agrivoltaics' and fully understand its many benefits.
Agrivoltaics is all about combining agriculture and renewable energy generation, for example, solar panels and crops on the same area of land. Fixed support systems are used to raise the solar panels about five meters above the ground, allowing farm machinery to access the crops below. Other solutions include solar greenhouses or photovoltaic modules installed between crop rows.
What are the benefits of agrivoltaics?
1. It maximizes the potential of solar energy. According to a recently published study, top three land covers associated with greatest solar PV power potential are croplands, grasslands and wetlands. The same study also found that global energy demand would be offset by solar production if even less than 1% of cropland were converted to an agrivoltaic system.
2. It improves certain crops. Although not all crops have the same climatic needs, agrivoltaic modules can act as a barrier against excessive solar radiation, heat, drought or heavy rainfall. This provides much-needed protection for crops in extremely hot or heavy rainy seasons, allowing them to grow unaffected by seasonal changes. In addition, the shade the panels create helps keep the soil moist for longer, providing plants with the optimum water supply.
3. Solar farms have higher yields. Photovoltaic solar panels produce energy from the light they receive, not from heat. In fact, heat can negatively affect the performance of a solar farm and significantly reduce its efficiency. Growing crops under the photovoltaic panels reduces the temperature of the panels, preventing a decrease in their performance.
4. It increases land productivity. Growing crops and producing renewable energy at the same time means that farmers can increase their profits, an increasingly crucial factor in view of the worldwide growth of photovoltaic solar energy. According to data from the International Renewable Energy Agency (IRENA), in 2021 global PV generation capacity increased by 19% over the previous year, reaching 843,086 MW of total cumulative capacity worldwide.
5. It has a positive impact on the environment. Agrivoltaics makes it possible to generate electricity and promotes stronger development in rural areas. Not only that, but this increasingly widespread trend helps to enrich the community thanks to the business activity associated with it (access, construction, repair, etc.) while helping to conserve and improve the ecosystem.
The agrivoltaic power installed worldwide has experienced tremendous growth in recent years, and increasingly more countries are joining this trend. Only 5 MW of PV were installed worldwide in 2012, while the capacity exceeded 2.9 GW by 2020. 
Today, we are seeing more PV projects in countries such as Germany, Italy, the United States and Japan. These projects once again demonstrate that not only is the coexistence of renewable energies and agriculture possible, but also that it is highly beneficial for both sectors.
What do you see as the greatest opportunity for this type of technology? Please write to our This email address is being protected from spambots. You need JavaScript enabled to view it. if you have any suggestions or comments.
Stay Informed
When you subscribe to the blog, we will send you an e-mail when there are new updates on the site so you wouldn't miss them.