Vector Renewables, Owner's Engineer for Matrix Renewables' first plant under construction in Europe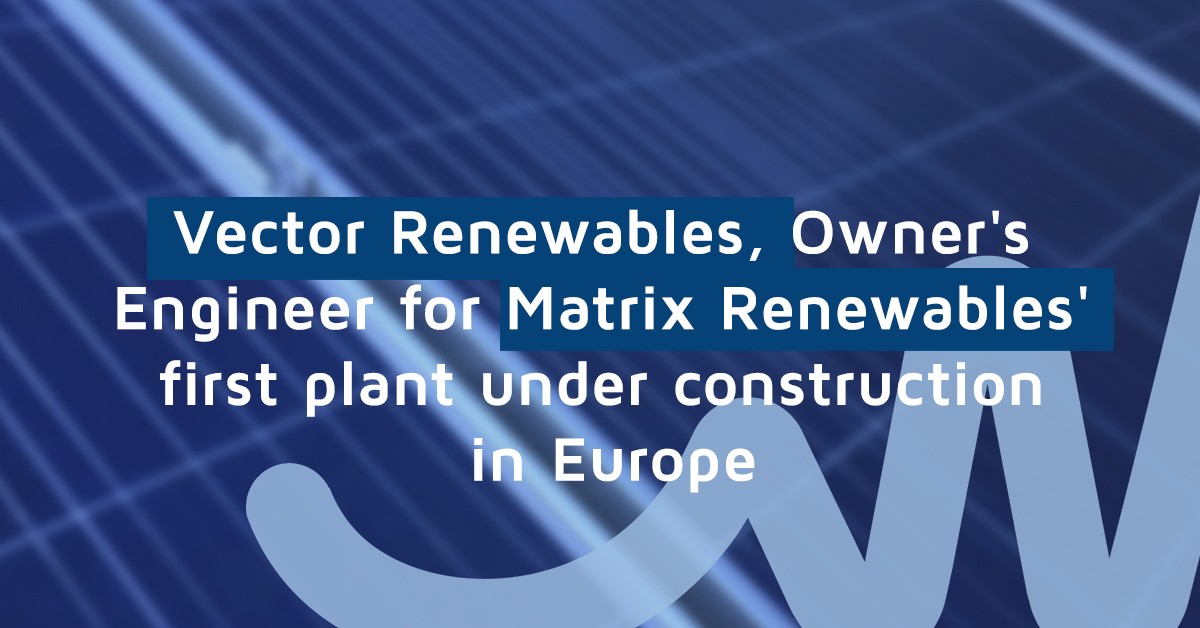 Vector Renewables, a leading independent consultant, has been selected by Matrix Renewables, a global renewable energy platform, as Owner's Engineer for the construction supervision of the 50 MWp solar photovoltaic project "Olivares", located in the province of Jaen.
The scope of the agreement also includes the supervision of the activities related to Health & Safety and Environment Management, and the review of both; the commissioning of the plant and the tests to be carried out by the EPC contractor to ensure the correct execution of the works. The project is expected to be operational in the second half of 2022.
With this new service, Vector Renewables has been involved as Owner's Engineer in more than 6 GW of projects worldwide and further consolidates its position as one of the leading choices in terms of quality of services and expertise as an Independent Advisor for the Renewable Energy market.
About Vector Renewables
Vector Renewables has provided services in more than 40 countries. It has a portfolio under management of over 4.7 GW and has performed over 100 GW of services as Technical Advisor and 5 GW as a Legal & Financial Advisor. To date, Vector Renewables has been involved in more than 3,000 projects, which has positioned it as one of the most relevant independent advisors in the renewable energy sector worldwide.
About Matrix Renewables Matrix Renewables
is a renewable energy platform created and backed by global alternative asset manager TPG and its $13 billion impact investment platform TPG Rise. Matrix Renewables' current portfolio consists of 2.1 GW of operational, under construction or near-ready-to-build solar PV projects and a further 2.7 GW of renewable energy projects under development in Europe, the US and Latin America.
Stay Informed
When you subscribe to the blog, we will send you an e-mail when there are new updates on the site so you wouldn't miss them.