PPA: what it is, its advantages and where it stands in Japan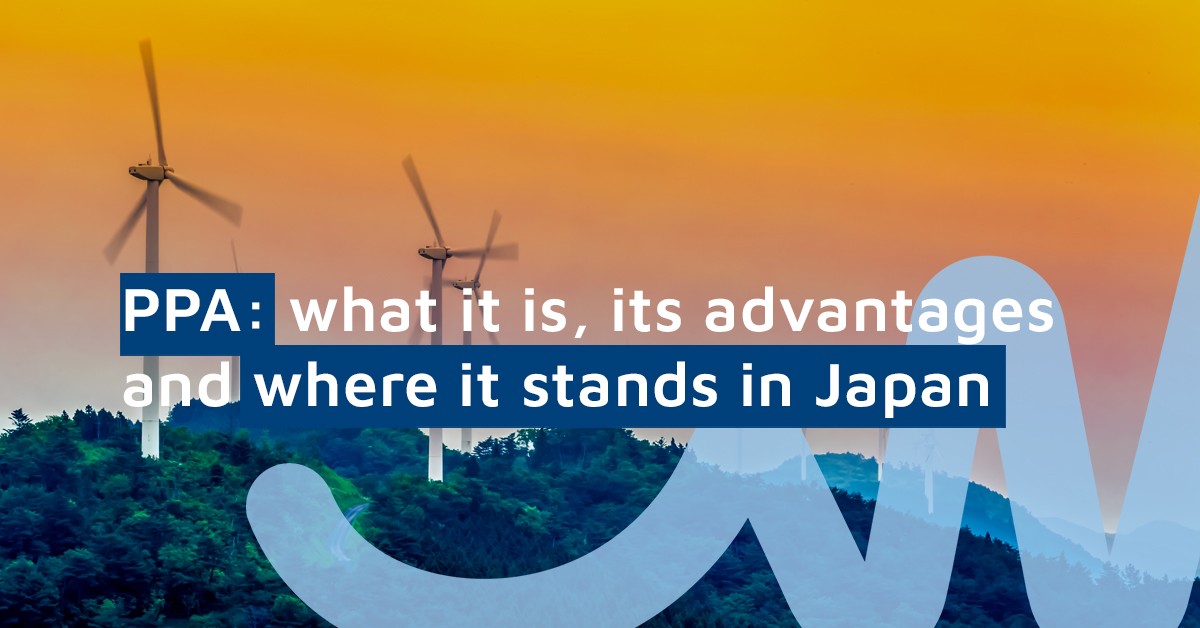 The PPA has become a strategic tool in the renewables market. Want to find out what it is and the advantages it provides for different stakeholders? Keep reading this post.
What is an energy PPA?
PPA stands for Power Purchase Agreement. It is a long-term power purchase agreement between a renewable energy developer and a corporate consumer or seller who will then resell the energy. 
Under a PPA, the parties agree on a price for the sale of the energy over a period of time, typically between 5 and 20 years. 
The number of PPAs signed in a market is a good indicator of the maturity of renewables in that market. Moreover, establishing these types of agreements leads to significant benefits for companies, end-consumers, energy producers and the planet.
Benefits of PPAs
The main benefits for companies or corporate consumers involve:
• Access to competitively priced energy now and in the future.
• Power consumption at a stable and predictable price.
• Guaranteed supply of clean energy.
• Meeting corporate sustainability goals and enhancing brand reputation.
• Savings in investment and maintenance costs.
• Better planning of your long-term cost structure.
The advantages of PPAs for developers are also obvious:
• They offer the opportunity to invest in new assets thanks to long-term assured income.
• They make it possible for investment decisions to be made based on profitability versus risk.
• They help secure more financing for renewable projects.
• They establish long-term relationships with end customers.
• They provide a renewable investment alternative to auctions and sales from merchant farms.
Not to mention the benefits for the planet:
• Encouraging investment in renewable energy and less dependence on polluting sources.
• Positive local impact.
• Better use of natural resources.
Where PPAs stand in Japan
The FIT scheme came to an end in Japan at the start of 2022, and the last plants to be built under this system were scheduled to be completed. Consequently, PPAs are gradually becoming an effective option for power purchase.
In Japan, the cost of a PPA ranges from 10 JPY/kWh (2021 data), a figure that makes this type of agreement particularly competitive; evidence of this is that, at the close of 2021, large companies such as Mitsubishi, Amazon and Seven Eleven signed PPAs for their electricity supply.
With the cost of solar energy production below 10 JPY/kWh and with the expectation that the Japanese government will announce the new FIP scheme, which aims to benefit PPA consumers and producers, the Japanese market shows signs of wanting to recover the momentum it has lost and grow even more in the future.
-----------------------------------------------------------------------------------------------------
As independent advisors for renewable projects around the world, at Vector Renewables we are aware of the growing popularity of these types of agreements in the market.
According to a study published by Bloomberg, more than 31.1 gigawatts of clean energy was purchased through PPAs worldwide in 2021. The Americas closed 2021 with 20.3 gigawatts of PPAs announced, Europe with 8.7 GW and Asia with 2 GW.
Please don't hesitate to contact us if you are looking for support or have any additional suggestions.
Stay Informed
When you subscribe to the blog, we will send you an e-mail when there are new updates on the site so you wouldn't miss them.