Current Panorama and Future Prospects for Photovoltaic Projects in Italy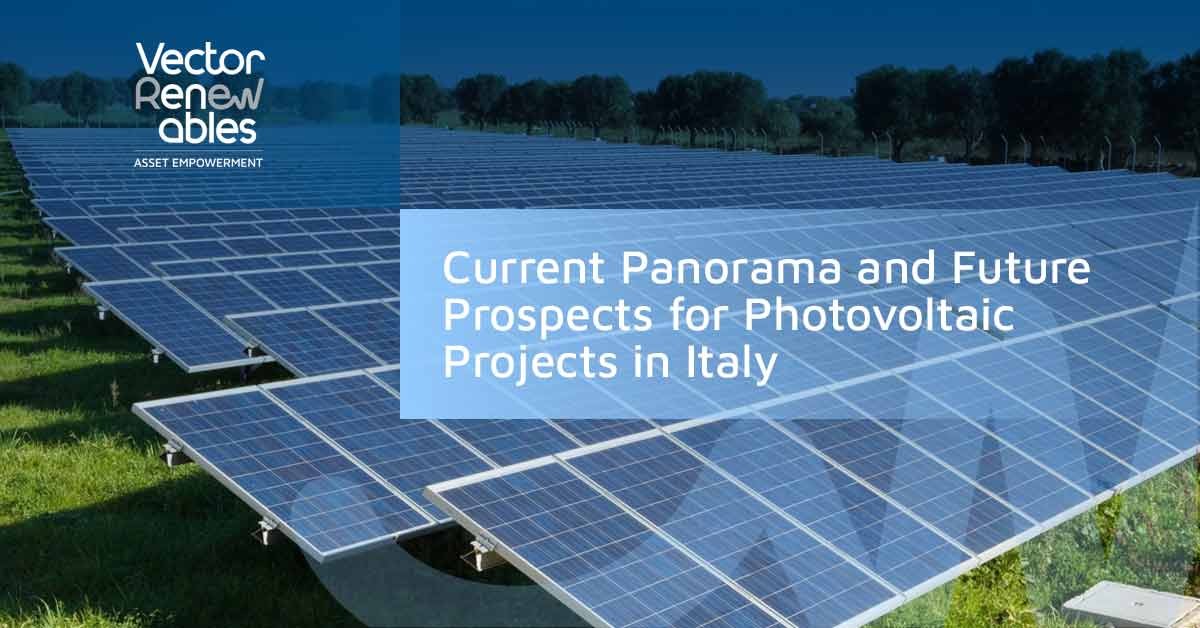 Italy has become a leader in the implementation of renewable energy, especially in the field of photovoltaics.  With its suitable climate and commitment to sustainability, the country has seen significant growth in photovoltaic projects in recent years.
Italy's photovoltaic sector has experienced remarkable development, fueled by favorable policies, technological advances and growing public awareness of the benefits of solar energy. The abundant sunlight and the diverse geographical regions of the country make it an ideal place to take full advantage of this type of energy. The country's National Integrated Climate and Energy Plan aims to reach 50 GW of solar power by 2030.
Many outstanding photovoltaic projects have been implemented throughout Italy, and Vector Renewables plays a key role in supporting many of them. 
Through its Property Engineering service, Vector's technical team verifies the design of the plants to ensure proper execution in accordance with applicable standards and regulations, contractual requirements, and good practices. Among the services offered are the testing and analysis of the plants in operation, allowing the general condition to be assessed and realistic expectations of useful life to be offered.
These factors will play a key role in the growth of photovoltaics, and the future of this sector in Italy is promising.
• Technological advances – Continued advances in photovoltaic technology, such as the development of more efficient solar panels, energy storage solutions, and smart grid integration, will improve the performance and reliability of solar power systems, making photovoltaics an even more attractive option for individuals, companies and government agencies.
• Political support – Attention should be paid not only to the technical aspects, but governments should also support this growth. Italy has implemented a range of policies and incentives to support the adoption of renewable energy, including energy supply prices, compensation for power surpluses, and tax incentives, thereby encouraging investment in solar projects and making them financially viable.
• Decentralized Power Systems – The increase in photovoltaic installations will lead to growth in distributed generation and favor a resilient and decentralized power grid. The consequent reduction in transmission distance will entail fewer losses and also provide individuals and communities with the possibility of generating their own energy, encouraging citizen participation and empowerment in energy decision-making.
This turns consumers into "Prosumers"—Producers and Consumers at the same time. 
• Energy transition and sustainability goals – Italy has set ambitious goals for the energy transition, aiming to increase the proportion of renewables in its overall energy mix, and photovoltaic installations will play a crucial role in achieving carbon neutrality by providing a sustainable and environmentally friendly alternative to fossil fuels.
• Integration with other sectors – The integration of photovoltaic plants with other sectors, such as electric mobility and energy storage, will create new opportunities. For example, electric mobility has great incentives and subsidies, and charging infrastructures or incentives for sustainable mobility are also improving. 
Italy has firmly established itself as a leader in photovoltaic projects, taking advantage of its abundant sunlight and favorable policies to drive the adoption of renewable energy. The future of photovoltaics in Italy looks bright, as technological advances, favorable policies and sustainability goals determine the growth of the sector. As the country continues to embrace solar energy and integrate it into other sectors, the photovoltaic industry in Italy is contributing significantly to a cleaner and more sustainable energy future.
Italy is one of the key markets for Vector Renewables. In addition to our long experience in Italy as Asset Managers, with a portfolio under management exceeding 1.6 GW, Vector Renewables boasts 43 GW as Technical Advisors (Consulting, Engineering and Construction) in solar PV and wind assets, helping our clients throughout the project value chain.
If you need advice for any of your projects in Italy, do not hesitate to contact us at This email address is being protected from spambots. You need JavaScript enabled to view it.
Stay Informed
When you subscribe to the blog, we will send you an e-mail when there are new updates on the site so you wouldn't miss them.