Characteristics and challenges of the renewable market in Japan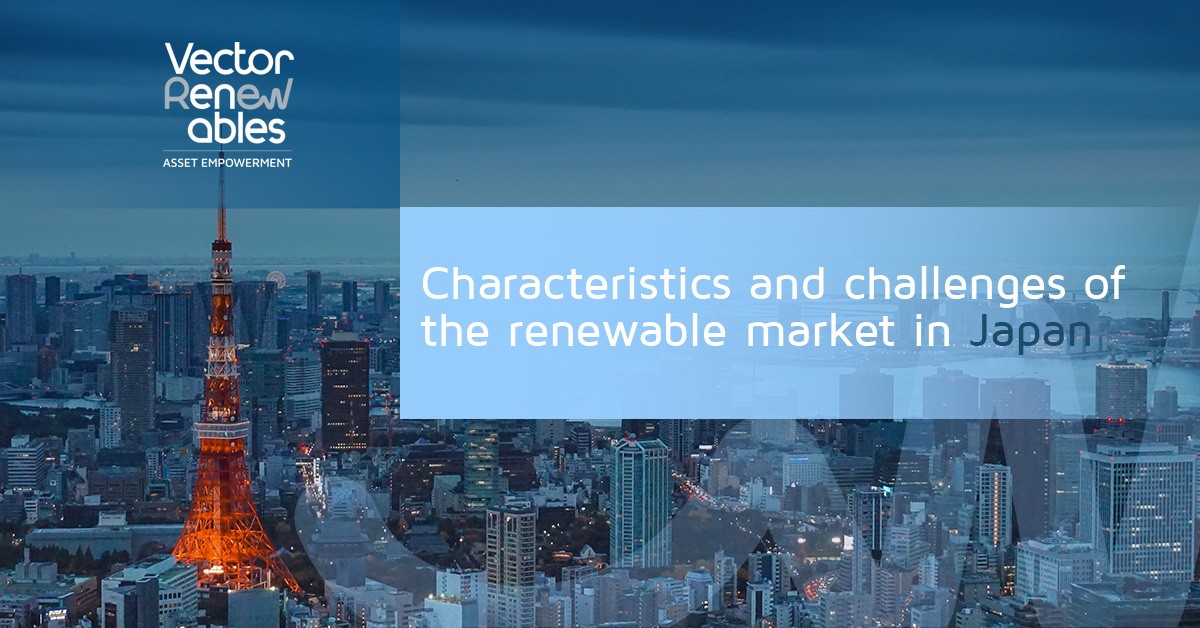 Over the past few years, Japan has experienced significant growth in clean energy. According to IRENA's annual report, by the end of 2022 the country reached 78.8 GW in solar PV and 4.5 GW in wind. This installed capacity is expected to grow enormously in the coming years to meet the targets set for 2030.
The Fukushima nuclear accident in 2011 marked a turning point in Japan's energy policy. This event accelerated the reforms of the electricity market, liberalising it and introducing a Feed-in Tariff to the grid, with the aim of making investment in renewable energies more attractive.
The reality is that Japan has very limited indigenous fossil fuel resources to meet its energy demand, which means that there are great opportunities for renewable energy installations. Therefore, the Ministry of Economy, Trade, Industry (METI) has implemented various policies to promote the use of clean energy, including the creation of a renewable energy strategy that sets a target of 36%-38% by 2030.
Furthermore, according to Japan's Green Growth Strategy report, the country aims to achieve carbon neutrality by 2050. Other characteristics and challenges of the Japanese renewable market:
Lack of land and location: Although the potential for renewable energy in Japan is evident, its development is hampered by the country's limited mountainous topography, natural disasters, and high population density. Its difficult relief prevents finding enough land to install solar panels and wind farms, which means that there are great opportunities for agrovoltaics and offshore wind. As a curiosity, in the past we have already seen cases of solar plants being built on former golf courses or ski resorts, taking advantage of these spaces that boomed in the 1990s but are now in disuse. To counteract the lack of land, portfolios of small capacity plants (1-2MW), which occupy little space, and which use economy of scale (same lay-out, equipment and O&M contracts for the entire portfolio) to generate profitable projects, have recently been developed.


Grid congestion: In addition to Japan's geographical challenges, the country does not have a unified electricity grid, divided into two zones with incompatible grids, making it impossible to transmit power between the two regions. The northern region (which includes Tokyo to Hokkaido) operates at 50 Hz, while the southern region (from Shizuoka to Kyushu, including Osaka) operates at 60 Hz. Although the southern region has more irradiation and the plants produce more energy, its energy demand is not high, causing a surplus that cannot be transmitted to the high-demand regions in the north (Tokyo), leading to so-called "curtailment", which forces power producers to stop production. The good news is that the current government has proposed to upgrade the grid to mitigate this problem, although this process will take a few years.


Storage: Japan has invested heavily in advanced energy storage technologies, such as reversible hydroelectric pumps, thermal storage, and lithium-ion batteries. Regarding the latter, several Japanese companies are already working on the construction of various large-scale lithium-ion plants to store surplus renewable electricity and the ability to discharge it when there is a shortfall in supply. These batteries are used at residential, commercial, and industrial levels and can be discharged quickly, making them suitable for short-term storage applications. The government has not yet defined the system of support and subsidies for the installation of storage systems (stand-alone or connected to a plant), but it is expected to be established in the short term, given that curtailment has severely affected certain regions of the country.


Hydrogen research: The Japanese market is a pioneer in hydrogen research. After several years of construction, the Fukushima Hydrogen Energy Research Range (FH2R) in Japan became operational in March 2020. The aim of the facility is to serve as a research laboratory for hydrogen projects and to acquire data for the practical application of gas-to-energy technology. This facility consists of a 10 MW hydrogen production unit with a maximum production capacity of about 2 000 normal cubic metres of hydrogen per hour. The hydrogen produced was used, for example, for vehicles for the Tokyo Olympics in 2021. Recently, Japan has signed collaboration agreements with countries such as Australia for the import of hydrogen using ships from Japanese companies such as Mitsui or Sojitz, so it is expected that this type of energy will become more relevant in the medium and long term.


Offshore wind: Offshore wind power generation is an important area of development in Japan. The country has a long coastline and deep waters, making it a suitable location for offshore wind farms. Japan's first large-scale offshore wind farm came into operation at the end of 2022, and in April 2023, the 4th Basic Plan for Ocean Policy was approved, which includes new legislation to allow the construction of floating facilities in the exclusive economic zone surrounding Japan's territorial waters. Japan has defined development zones for this type of energy, mostly located in the north of the country (Hokkaido and Tohoku), and is in the process of issuing the third auction round for offshore projects; in addition, the construction of a connection cable between Hokkaido and Honshu has been announced, which will allow the energy produced by offshore plants to be transmitted to high-demand regions (Tokyo Metropolitan Area).


Feed-in tariff system: The FIT (Feed-in Tariff) was introduced in 2012 as part of the energy policy to promote renewable energy and reduce nuclear and oil dependency. This system established long-term fixed purchase prices for renewable energy, which are guaranteed for a period of 20 years. The objective of the FIT was to incentivise investors and renewable energy producers to invest in these technologies, in order to accelerate the transition to a more sustainable energy system. The Feed-in Tariff system in Japan has had a positive impact on the adoption of renewable energy in the country. Since its implementation, it has seen a significant increase in installed renewable energy capacity in Japan, especially in solar PV and wind power. However, there has also been some criticism of the high costs of clean energy and the need for greater resource efficiency. The FIT regime came to an end in Japan in early 2022, since when PPAs (Power Purchase Agreement) are gradually becoming an effective option for power purchase and are expected to continue to grow significantly as more companies set 100% renewable targets. The most recent PPA contracts have reached valuations of up to 16 JPY/kWh, and are expected to continue to rise in the medium to long term, making them highly attractive to developers and investors.


Regulation: Regulation in Japan has been slow in promoting renewable energy, however, the country has a regulatory framework that has been generating a solid structure in this area. From the Biomass Promotion Law, the Solar PV Promotion Law (1999) to the Renewable Energy Promotion Law (2011), the government has worked to ensure that renewable energy producers receive a fair price for the energy they generate. Despite this scenario, today we can affirm that Japan is responding to the market by building new transmission lines, implementing advanced grid management systems and promoting distributed renewable energy generation.
In 2023, , having witnessed the growth and development of a market that has adapted to the circumstances. Since then, Vector has provided services to its clients in Japan, supporting them in every new challenge. We look forward to doing the same in future projects, ensuring professionalism, expertise and dedication to each and every challenge that may arise.
Stay Informed
When you subscribe to the blog, we will send you an e-mail when there are new updates on the site so you wouldn't miss them.