Spain can be the leader in the green hydrogen race to net zero emission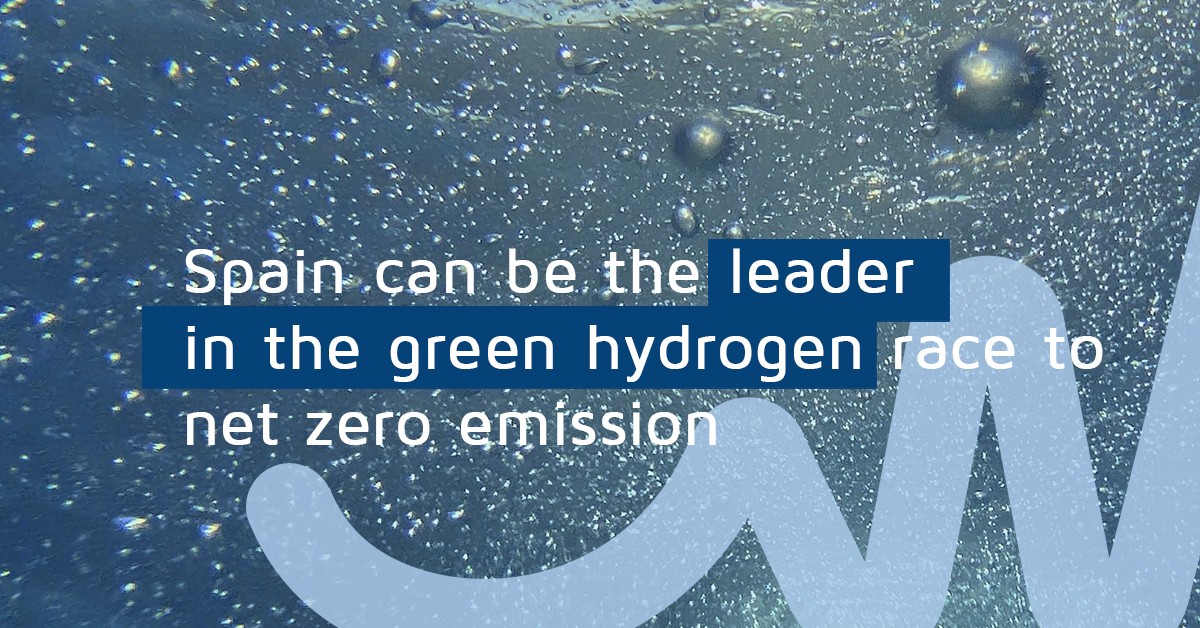 Spain considers renewable hydrogen a key technology to decarbonise sectors with limited low carbon solutions, like the transport and gas sectors, according to its NECP (Plan Nacional Integrado de Energía y Clima).
Currently, Spain consumes approximately 600 000 tonnes of hydrogen a year, almost exclusively for industrial uses, all of which is from fossil fuels. The majority is on a captive market. 
Ammonia: 65,047 
Energy: 3,045
H2O2: 4,351
Methanol: 96
Other: 39,070
Other chemicals: 11,084
Refinery: 481,468
Transport: 0
At the end of 2020, the Spanish Government, at the proposal of the Ministry for Ecological Transition and the Demographic Challenge (MITECO), approved the Hydrogen Roadmap to boost the deployment of this technology. This document contains some of the objectives established for the year 2030:
4 GW of installed capacity of electrolyzers

25 per cent of green hydrogen consumption in the industry 

100-150 publicly accessible green hydro generators 

150-200 FCEV buses 

5,000 - 7,500 light and heavy goods vehicles FCEVs 

2 commercial lines of H₂-powered trains 

8.9 billion euros in investments for green or renewable hydrogen production projects 

4.6 million euros tonnes of CO₂eq reduced. 
Spain is expected to realise the 10 per cent installed capacity of  electrolyzers set by the EU by 2030. In addition to the above direct targets, the development of electrolyzers technology will bring other side effects: 
A market development of 150 billion euros with 55 billion euros in annual sales by 2030. 

In terms of job creation, more than one million jobs are expected to be generated. 
Even if this target seems to be very ambitious, Spain enjoys a geographical, climatic and industrial situation that endows it with great potential at a global level in terms of green hydrogen production. 
Based on the data provided by the European Fuel Cell and Hydrogen Observatory (FCHO), Spain has the lowest LCOH (Levelized Cost of Hydrogen) from onshore wind renewables plants. Therefore, it is one of the most competitive for hydrogen production from solar PV plants.
With this condition, Spain not only can achieve the ambitious renewable electricity targets set by NECP, for 2030 and beyond but also position itself as an exporter of green energy
To further support the energy transition and the industrial opportunity and with the object to remove barriers to the development of renewable gases in Spain, MITECO has subjected to the public information stage the Draft of Royal Decree which partially transposes Directive (EU) 2018/2001 of 11 December 2018 on the promotion of the use of energy from renewable sources and, with it, the Guarantees of Origin ("GoO") system for gas from renewable sources it proposes to implement. 
This is a significant step ahead in the attempt to facilitate the deployment of these energies and take advantage of their contribution to decarbonisation targets set for Spain's economy.
---------------------------------------------------------------------------
Vector Renewables is actively exploring hydrogen's incredible potential as a clean energy vector. Our team of experts is focused on fostering decarbonization through developing an economy based on hydrogen, supporting companies and institutions in creating a new and greener value chain with concept and feasibility studies on hydrogen.
Stay Informed
When you subscribe to the blog, we will send you an e-mail when there are new updates on the site so you wouldn't miss them.